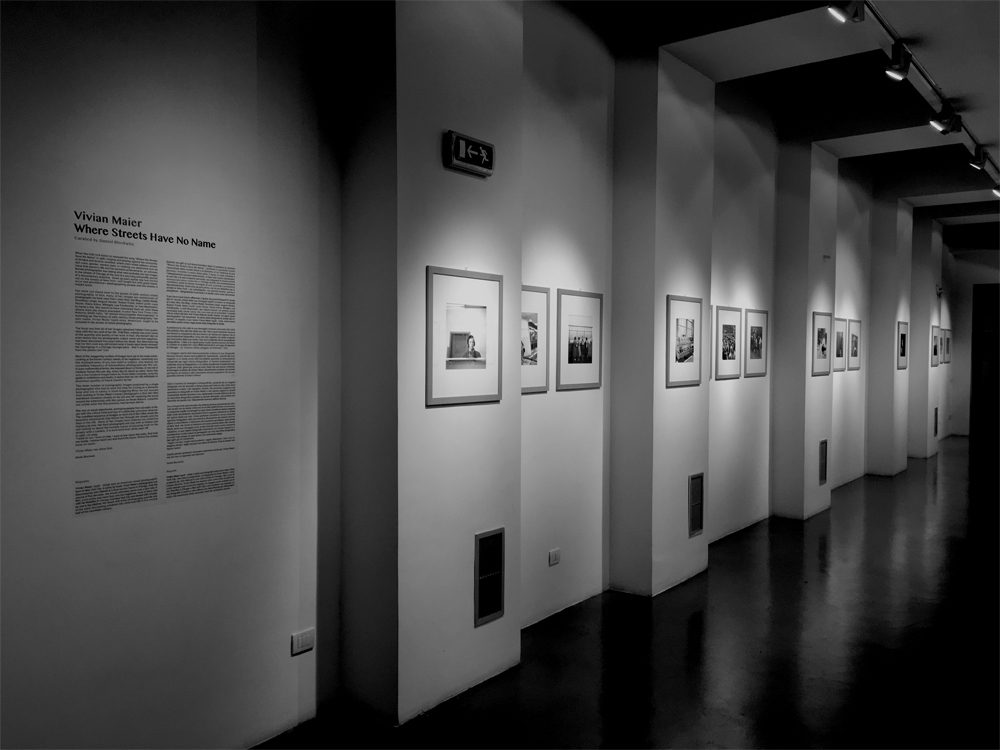 WHERE STREETS HAVE NO NAME
Vivian Maier
….a cura di Daniel Blochwitz
4 novembre 2016 - 5 gennaio 2017
10b Photography in collaborazione con ILEX Gallery
Quando nel 1987 la rock band irlandese degli U2 pubblicò la canzone "Where the Streets Have No Name", cantando contro l'anonimato delle società divise e di divisione, in cui l'indirizzo di una persona, l'accento, il colore della pelle, il sesso, lo stato mentale o l'abbigliamento possono determinare, in base alla nostra valutazione, la sua vita e le sue conquiste personali, una fotografa di strada ancora sconosciuta stava scattando a Chicago quelle che probabilmente sarebbero state le ultime immagini di una costante e produttiva documentazione.
Il suo lavoro può essere affiancato a quello dei grandi fotografi di strada del 20° secolo. Era un'imparziale opportunista che ritraeva persone provenienti da tutti i ceti social ma con la mente critica e l'occhio di un'osservatrice politicamente coscienziosa. Molte delle sue immagini sono ormai entrate nella nostra memoria collettiva. Le sue migliori fotografie e rimarranno con noi per sempre e ci ricorderanno l'umile natura di perseguire con una macchina fotografica la verità nelle strade. Si tratta di un duro lavoro che raramente ripaga. Nel 1987, gli U2 hanno cantato, "Voglio correre, voglio nascondermi, voglio ab- battere i muri che mi tengono dentro. Voglio toccare con mano la fiamma. Dove le strade non hanno nome". Queste parole sembrano risuonare autentiche anche per Vivian Maier, ma noi non lo sapremo mai davvero…
10b Photography in collaborazione con ILEX Gallery è orgogliosa di presentare la prima mostra di Vivian Maier a Roma con oltre 30 stampe in gelatina d'argento. Vivian Maier (1926 - 2009) è stata una fotografa americana nata a New York City. Tata di professione, la fotografia di Vivian Maier è stata scoperta da John Maloof in una casa d'aste di Chicago. Nel corso di cinque decenni, Vivian Maier ha esposto oltre 2.000 rotoli di pellicola, 3.000 stampe e più di 100.000 negativi, la maggior parte scattati con la sua Roleiflex a Chicago e New York City e mai condivise con nessuno. Le sue fotografie in bianco e nero offrono uno delle finestre più affascinanti nella vita americana della seconda metà del ventesimo secolo.
..Curated by Daniel Blochwitz
November 4, 2016 - January 5, 2017
10b Photography in collaboration with ILEX Gallery
When the Irish rock band U2 released the song "Where the Streets Have No Name" in 1987, singing against the anonymity of divided and divisive societies, where one's street address, accent, skin color, gender, mental state, or clothing can determine how we value that person's life and her personal achievements, an unknown female photographer was taking what were probably her last images in the streets of Chicago at the end of a very long and prolific pursuit of a documentary practice. Her work can stand next to the greats of 20th century street photography. Her own name, Vivian Maier (1926-2009, American), ought to be included in the annals of street photography. She was an equal opportunist, portraying people from all walks of life, yet with the critical mind and eye of a politically conscious observer. Many of her images have entered our collective memory by now. Her best photographs will stay with us forever and will remind us about the humble nature of pursuing truth on the streets with a camera. It is hard work that rarely pays off. In 1987, U2 sang, "I want to run, I want to hide, I want to tear down the walls, that hold me inside. I wanna reach out and touch the flame. Where the streets have no name." Vivian Maier has done that.
10b Photography In collaboration with ILEX Gallery is proud to present the first Rome exhibition of Vivian Maier's work with over 30 silver gelatine prints. Vivian Maier (1926 - 2009) was an American street photographer born in New York City. A nanny by trade, Vivian Maier's photography was discovered by John Maloof at a local auction house in Chicago. Over the course of five decades, she would ultimately leave over 2,000 rolls of film, 3,000 prints and more than 100,000 negatives, most of them shot with her Roleiflex in Chicago and New York City and shared with virtually no one in her lifetime. Her black and white photographs provide one of the most fascinating windows into American life in the second half of the twentieth century…..